2021: Our Year In Review
Monday 22 November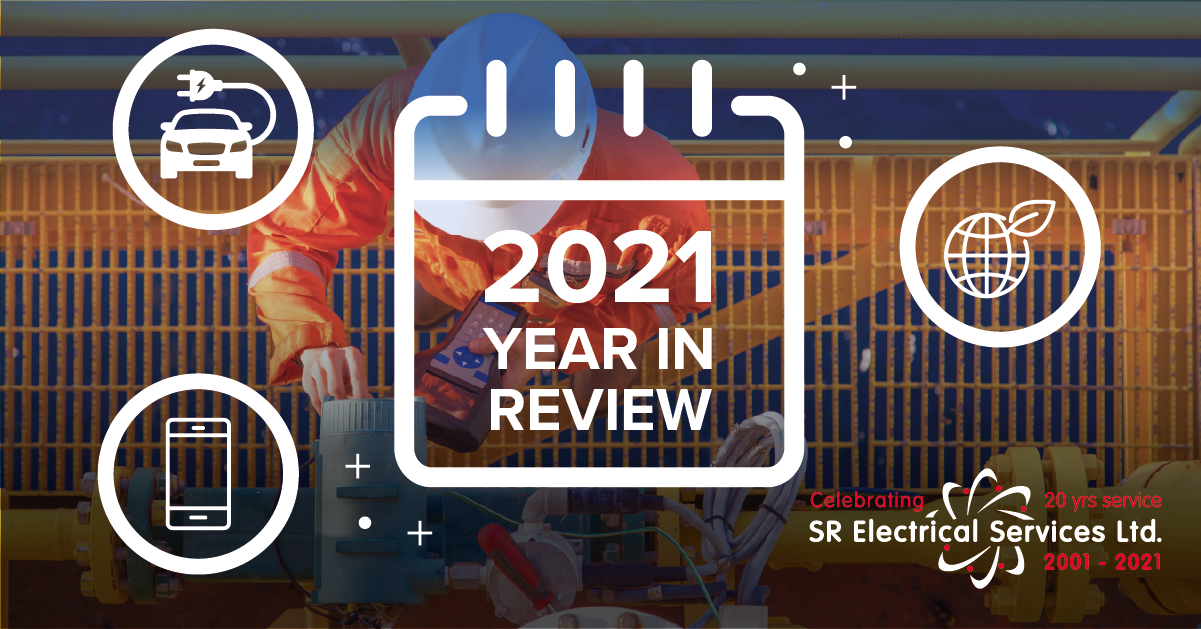 As 2021 is coming to a close, now is a great chance for us to reflect on our projects, developments and achievements over the months. It has been a busy year here at SR Electrical Services Ltd and we are pleased of the business's successes. To round up the year, here are some of our highlights:
New Engineer App
At the start of 2021 we launched our Engineer App which has revolutionised our workflow. The new system in place has increased efficiency through minimal amounts of time needing to be sent on administrative tasks and more. This has therefore advanced our capabilities and services to customers with a streamlined app that keeps everything all in one place.
ISO14001 Achieved
We were delighted to receive our ISO14001 certification this year, demonstrating our commitment to environmentally friendly services. This global certificate is awarded to organisations that commit to an effective environmental management system, an aspect of our business we hold with high importance.
Hybrid Van Joins Our Fleet
The addition of a hybrid van to our fleet is another step on our journey to reduce our carbon footprint. Our engineers travel across the country in our new eco-friendly van which now helps contribute to the fuel economy efficiencies.
Launch Of Our VoIP Phone System
We strive to better our services by utilising the latest technology available which is why we have worked to update our helpdesk with a VoIP phone system. Through this integration, our helpdesk is now able to take calls more resourcefully through the internet and the cloud. This new versatile way of communication is an investment in staying connected.
EV Charging & Testing Trained Team
With the recent uptake of electric vehicles, charging stations are present and appearing more rapidly across the country. This year our team undertook essential training and are now qualified to certify the safety of EV charging stations. We continue to stay at the forefront of electrical power with this new expansion of expertise.
Cyber Essentials Gained
The growth in digital transformation is the reason why the latest Cyber Essentials certification is important to us. Cyber Essentials is a government backed scheme which protects organisations from cyber attacks via the assessment of technical controls in place. By achieving this accreditation, we are advancing the protection of our customers against digital breaches.
What's next?
2021 has been a year of growth for SR Electrical Services LTD and we look forward to the achievements waiting for us in 2022. If you're looking for quality electrical services to end this year, or start the new year, get in touch with our skilled team today.










4 Signs Your Business is due a Hazardous Area Electrical Inspection
February 2023
With the vast amount of directives and regulations surrounding hazardous areas, it can be easy to forget the importance of ensuring that the electrics within this area are safe.
Read more Share


The Essentials of Electrical Control Panels and Why You Need One
January 2023
You may be thinking, control panels, how would they benefit my business? Well, we can tell you that they are widely used in industrial, commercial, and residential applications and are essential for industrial automation.
Read more Share


Header Point Lighting Rectification
July 2021
Our team carried out a rectification project on faulty header point light fittings in Lerwick.
Additional Replacement Light Fitting
July 2021
In December 2020, our team undertook rectification of a hazardous area light fitting in Northiam.