ATEX Inspections and your Business
Friday 11 September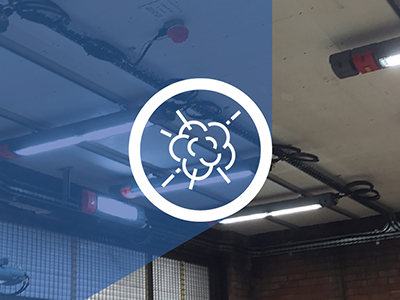 Hazardous area services are vital for any business which is within a hazardous environment – they help identify and prevent any hazards from happening, as well as maintaining any hazardous equipment to avoid issues going forward. Some of our most popular hazardous area services include ATEX inspections and installations.
What does ATEX stand for?
ATEX is an acronym for Atmospheres Explosible, and describes a hazardous area, which has potentially explosive environments of various categories – both gaseous (petrochemical), and dust.
Why choose SR Electrical Services LTD for the job?
Here at SR Electrical Services LTD, we carry out inspections and tests to BS EN 60079-17 (Visual, Close, and Detailed), DSEAR regulations, and APEA (design, construction, modification, maintenance, and decommissioning of filling stations – 4th edition).
What's our area of expertise?
Our extent of expertise in hazardous area services has been developed through working on a wide range of installation areas, including the following:
- Petrochemical
- Dust
- Bunkering
- LPG
- Forecourts
- Independent high-level alarm systems
- Static earthing
- Motor installations
Why can you trust us?
Our impressive list of accreditations and certifications state that we are NICEIC Hazardous Area Approved Contractors, ECA Approved Contractors, and that we are CompEx trained and qualified engineers. You can view our full range of accreditations here. (each accreditation listed will be linked through to the certificate)
Find out how we helped one of our valued clients with their ATEX Hazardous Area Lighting installation here.
We understand ATEX inspections and installations more than most; ensuring you consistent and valuable service throughout our project together. To find out more about how our team can help your business with ATEX inspections, or other hazardous area services, get in touch with us today by giving us a call on 01562 750804, or email us at info@srelectrical.com. Alternatively, you can complete the contact form here.
Need a little extra?
- View our previous projects here for details about specific services
- View our full range of hazardous area services here
Why not follow us for the latest updates?
- Facebook
- Twitter









Out with the old, in with the new
December 2020
2020 has been a strange year. Here SR Electrical Services LTD, we would like to say thank you to each and every one of our valued clients and dedicated team members for their continued support and hard work throughout the year. We are extremely grateful.
Read more Share


Is my workplace at risk of a combustible dust explosion?
November 2020
Discover how our team can help keep your workplace, teams, and visitors safe from combustible dust explosions.
Read more Share


Tank Gauging Installation - Wales
October 2020
Recently, the SR Electrical Services LTD team were required to make a journey to Wales in order to help a site with their 2No temporary 1 Arm loading skids installation.
Rectification Hazardous Area Electrical Defects
July 2020
Electrical Inspection and Test of the Oil Lubricant control panels and electrical installation