ATEX Requirements: Keep Your Business Compliant
Tuesday 16 August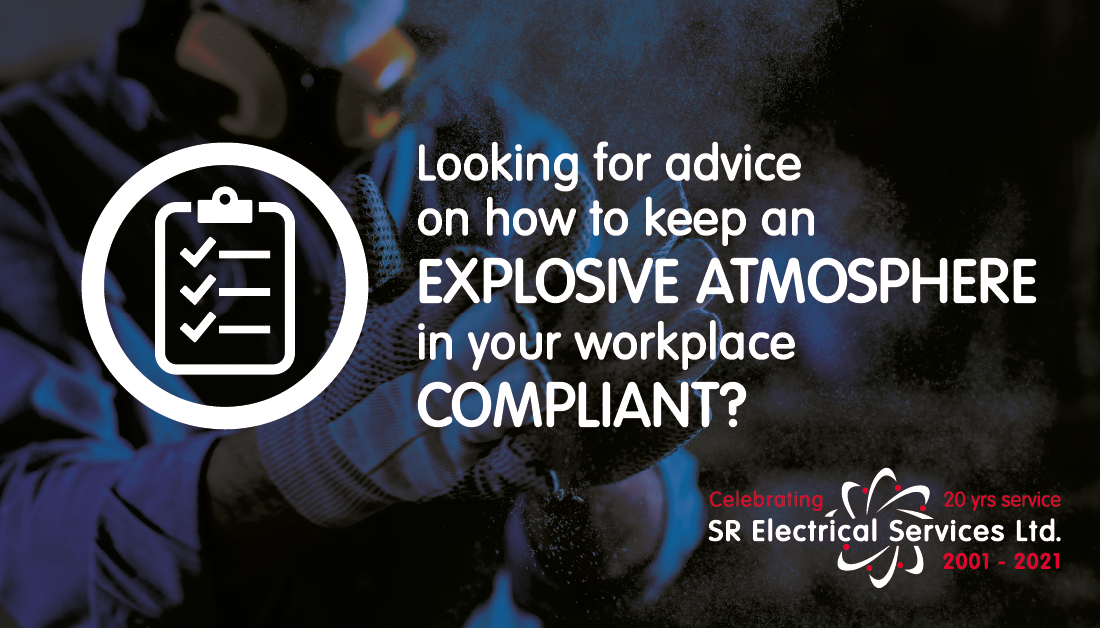 In our previous news article, we shared the importance of ATEX awareness and how to identify an ATEX zone using HSE classifications. Once a zone where a possible explosive atmosphere has been identified, there are several essential requirements a business must apply to adhere to for the Dangerous Substances and Explosive Atmospheres Regulations 2002 (DSEAR).
These requirements are in place to help protect a business, including the employees, property and assets; so it is imperative to be aware of the necessary preventative steps to take.
1. Identify Present Risks
Firstly, a workplace must identify what dangerous substances are present and the possible risks surrounding them. This includes assessing the work activities involved and how they could lead to potentially harmful situations for employees. This can be facilitated through an inspection from an accredited inspector for guaranteed assurance.
2. Enforce Measures To Reduce Risks
Once the possible risks of dangerous substances have been identified, control measures must be put in place to either reduce or completely eliminate them. In some workplaces, this can be as simple as substituting the substance of risk with a safer alternative. However, this is not always possible, in which case the below measures must continue to be followed. Any concerns can also be followed up by an electrical engineer who will be able to advise you on the risks and solutions in your workplace.
3. Control The Effects Of Possible Incidents
In situations where the risk of an explosive atmosphere cannot be completely eliminated, the next step is to carry out the following control measures in this order and in line with the risk assessment:
Condense the number of dangerous substances to as little as possible
Diminish or if possible, avoid the release of dangerous substances
Regulate the release of dangerous substances from their source
Stop dangerous substances from forming
Collect, safely contain and eliminate any dangerous releases to a suitable place, such as ventilation.
Keep ignition sources at a minimum
Try to avoid conditions that could exacerbate the risks of dangerous substances, such as an unsafe increase in temperature.
Separate incompatible substances.
4. Put Various Mitigation Measures In Place
Alongside the above control measures, further mitigation measures are required by employers. Firstly, an employer must make sure the number of employees exposed to the risk is reduced and that they are provided with suitable PPE. In regards to the building, a plant must be both explosion and corrosion resistant and explosion suppression or explosion relief equipment must be present. Another measure is to take the appropriate steps to manage the spread of fires or explosions and minimise these dangers.
5. Be Prepared For An Emergency
An emergency plan is essential for an ATEX environment, and this information should be shared with emergency services for their own procedures. An employer's plan will need to include safety drills, warning systems and any other communications needed. They should also outline the specific equipment needed by those carrying out repairs for optimal safety.
6. Keep Employees Informed
ATEX requirements are in place to protect employees which is why they must be kept up to date with the relevant information, instructions and training. Workers should be aware of the dangerous substances that are present, and the safety data sheets and legislation that concern them. Furthermore, they must be made aware of the risk assessments, control measures and emergency procedures surrounding these risks.
This information should also be applied to non-workers where appropriate for their safety and the contents of dangerous substances in containers (including pipes) must be identifiable.
7. Identify Explosive Atmospheres Against Ignition Sources
Ignition sources include hot surfaces, lighting, flames, hot gases, static electricity, power supplies and more. Areas must be classified and ignition sources avoided where possible. Equipment in ATEX environments must adhere to the Equipment and Protective Systems Intended for Use in Potentially Explosive Atmospheres Regulations 1996.
For businesses that want extra assurance, the advice of a professional is always helpful in staying compliant with the latest regulations. The results of not correctly following ATEX requirements can be catastrophic, which is why any doubts should be addressed as soon as possible to an electrical specialist.
How We Can Help
Here at SR Electrical Services Ltd, we are CompEx supporters, ECA approved contractors and NICEIC hazardous area approved contractors. These accreditations combined with our decades of experience are a credit to our competence in providing businesses with full hazardous area services including ATEX inspections, testing, installation and continued maintenance support.
Contact us today for any queries and our expert team will be happy to assist you further. Get in touch with us using our contact details here.
Sources:
https://www.hse.gov.uk/fireandexplosion/dsear.htm
https://www.hse.gov.uk/fireandexplosion/dsear-background.htm










4 Signs Your Business is due a Hazardous Area Electrical Inspection
February 2023
With the vast amount of directives and regulations surrounding hazardous areas, it can be easy to forget the importance of ensuring that the electrics within this area are safe.
Read more Share


The Essentials of Electrical Control Panels and Why You Need One
January 2023
You may be thinking, control panels, how would they benefit my business? Well, we can tell you that they are widely used in industrial, commercial, and residential applications and are essential for industrial automation.
Read more Share


Header Point Lighting Rectification
July 2021
Our team carried out a rectification project on faulty header point light fittings in Lerwick.
Additional Replacement Light Fitting
July 2021
In December 2020, our team undertook rectification of a hazardous area light fitting in Northiam.