Faster Cable Installation at Jersey Fuel Terminal
Monday 22 May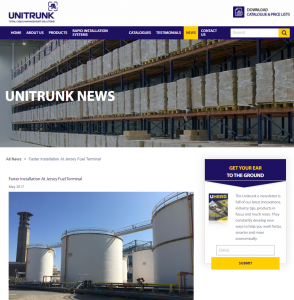 SR Electrical Services Limited has been mentioned on Unitrunk's news page this month; due to using their cable tray on a recent project of ours at Jersey.
The new cable management infrastructure enable SR Electrical Services Limited to install cables from a purpose-built PLC (Programmable Logic Control) panel to fire fighting and sprinkler controls throughout the office areas and tank farm. Manual call points throughout the site enable operatives to activate the system 24/7 to illuminate any fires that could occur or risk of explosion.










The Accreditations of a Good Electrical Contractor
June 2022
Certifications and qualifications serve as a good reflection of an electrical contractor's experience and knowledge. A list of recognised accreditations should be on your list of criteria when looking to work with a potential new electrical contractor.
Read more Share


A Spotlight on Lighting Inspections
May 2022
Electrical safety should never be overlooked, especially in businesses and commercial properties that have hundreds of lights fitted.
Read more Share


Header Point Lighting Rectification
July 2021
Our team carried out a rectification project on faulty header point light fittings in Lerwick.
Additional Replacement Light Fitting
July 2021
In December 2020, our team undertook rectification of a hazardous area light fitting in Northiam.