Hazardous Area Installations - What Are They?
Tuesday 23 June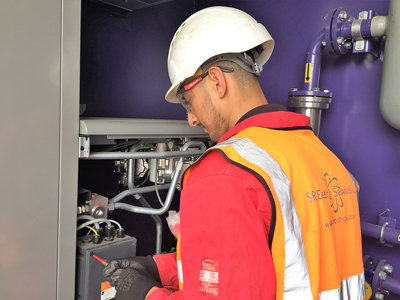 Our expertise has been developed through working on varied projects; giving you a high level of quality – which means our team can carry out a minor installation, or a total refurbishment of a large fuel terminal. There are a wide range of electrical installations we carry out within hazardous areas, such as:
Petro-Chemical
Dust
Emergency Lighting
Bunkering
LPG
Forecourt
Independent High-Level Alarm Systems (IHLAS)
Static Earthing Systems
Ex-Rated Pump Motor Installations
What are Hazardous Areas?
To define a hazardous area, we use "Zoning". Hazardous areas are defined in DSEAR as "any place in which an explosive atmosphere may occur in quantities such as to require special precautions to protect the safety of workers" (source: HSE, https://www.hse.gov.uk/comah/sragtech/techmeasareaclas.htm#:~:text=Zoning,protect%20the%20safety%20of%20workers%22.&text=Area%20classification%20is%20a%20method,explosive%20gas%20atmospheres%20may%20occur.)
According to HSE's definition, area classification is a method of "analysing and classifying the environment where explosive gas atmospheres may occur.". Our role, as petro-chemical experts, is to determine whether the area in which you require an electrical installation is hazardous, or safe. Zones are labelled on hazardous areas, "based on an assessment of frequency of the occurrence and duration of an explosive gas atmosphere". Below, we have included what these zones are.
Zone 0
An area in which an explosive gas atmosphere is present continuously for long periods
Zone 1
An area in which an explosive gas atmosphere is likely to occur in normal operation
Zone 2
An area in which an explosive gas atmosphere is not likely to occur in normal operation and, if it occurs, will only exist for a short time
How have we helped clients?
Many of our valued clients have received hazardous area installations from the SR Electrical team. For example, we installed Atex Hazardous Area Lighting for a client to help them become, and remain, compliant. We have also been asked to rectify all existing electrical defects on equipment and systems in hazardous areas at an operational bulk tank storage depot. Plus, more!
Part of our Hazardous Electrical Installation Services include completing and issuing a Hazardous Area Detailed Inspection Report. This report highlights any areas of concern in order to propose recommendations for any necessary, corrective action.
If you would like to find out more about how we've helped clients achieve successful and safe Hazardous Area Installations, view our Projects here.
Got more questions?
If you have more questions about our installation services, whether safe or hazardous, our friendly team of experts are here to answer them. Get in touch by calling us on 01562 750804 or email us at info@srelectrical.co.uk. You can also complete the contact form here, and one of the team will be in touch as soon as possible.










The Accreditations of a Good Electrical Contractor
June 2022
Certifications and qualifications serve as a good reflection of an electrical contractor's experience and knowledge. A list of recognised accreditations should be on your list of criteria when looking to work with a potential new electrical contractor.
Read more Share


A Spotlight on Lighting Inspections
May 2022
Electrical safety should never be overlooked, especially in businesses and commercial properties that have hundreds of lights fitted.
Read more Share


Header Point Lighting Rectification
July 2021
Our team carried out a rectification project on faulty header point light fittings in Lerwick.
Additional Replacement Light Fitting
July 2021
In December 2020, our team undertook rectification of a hazardous area light fitting in Northiam.