How To Ensure Your Hazardous Area Electrics Are Safe
Tuesday 20 September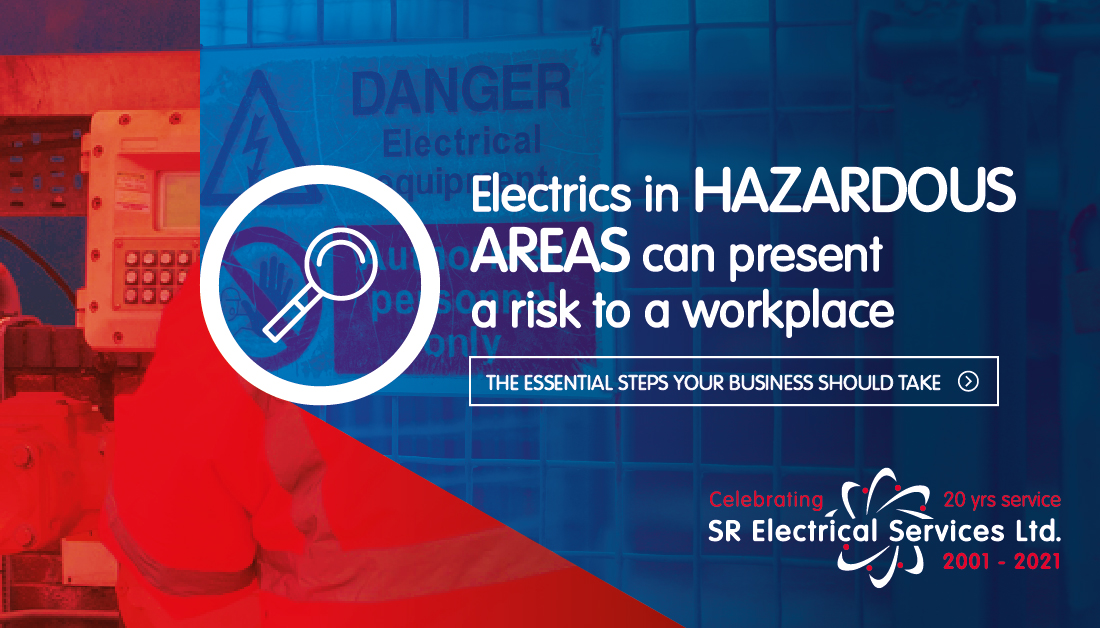 Hazardous areas are present in various businesses with important operations requiring or creating hazardous substances. The risks surrounding electrics in these areas cannot be ignored and workplaces have an obligation to keep their employees safe and their site compliant.
There are several essential points to address and apply to any hazardous area, this includes:
Knowing your workplace
A workplace must identify the risk of a fire or explosion occurring in an area where gas, vapour, mist or dust are present. This zone classification and any relevant temperature classifications then influence the measures that need to be taken and the electrical equipment used in this area. There are numerous control measures which pertain to earthing, lighting, vehicles and more. These measures are outlined in The Control of Major Accident Hazards guidance, however a qualified professional will also be able to advise on any issues.
One of the leading causes of accidents in hazardous areas is improper training and knowledge. This can be easily prevented by keeping employees informed by providing up-to-date information, risk assessments and training surrounding your hazardous area and the electrics within it.
Guaranteeing regular inspections
Regular inspections are highly beneficial and carry the following advantages:
The ability to identify any potential danger
Compliance with the relevant requirements
Health and safety assurance from a professional
Hazardous area electrical inspections are essential in providing your business with peace of mind and should never be skipped. They should be carried out in intervals, not exceeding 3 years to allow the inspector to identify any immediate rectification work that needs to be carried out.
Having a maintenance plan in place
Maintenance is a measure that keeps your site running as smoothly and efficiently as possible. Whether it is general, proactive or reactive maintenance, these steps go a long way in reducing any electrical breakdowns. Breakdowns can cause a hazard to your workplace and cause costly downtime.
By sticking to a regular maintenance plan a business can save costs in the long run. Here at SR Electrical Services, we specialise in Planned Preventative Maintenance services that are bespoke to your specific hazardous areas and orchestrated to increase the lifespan of your electrical equipment. Read more about our services here.
Keeping installations up to date
Any electrics that are old, damaged or unsafe for that particular hazardous area needs to be addressed and dealt with accordingly. If a discrepancy has been identified through an electrical inspection, then an installation by an accredited electrical contractor must be carried out immediately. It is also important that the contractors carrying out these works are specialists and qualified to work in hazardous areas.
We have years of experience in helping businesses with hazardous area installations and all of our engineers are CompEx certified. Our knowledge also spans across a variety of installations including lighting, earthing, alarms, emergency lighting and more.
Get assurance from the experts
Where hazardous areas are concerned it is always important to get extra assurance and advice from experts, which is why we provide quality electrical services that keep your business compliant and safe. For any queries or questions do not hesitate to get in touch with us, here.










4 Signs Your Business is due a Hazardous Area Electrical Inspection
February 2023
With the vast amount of directives and regulations surrounding hazardous areas, it can be easy to forget the importance of ensuring that the electrics within this area are safe.
Read more Share


The Essentials of Electrical Control Panels and Why You Need One
January 2023
You may be thinking, control panels, how would they benefit my business? Well, we can tell you that they are widely used in industrial, commercial, and residential applications and are essential for industrial automation.
Read more Share


Header Point Lighting Rectification
July 2021
Our team carried out a rectification project on faulty header point light fittings in Lerwick.
Additional Replacement Light Fitting
July 2021
In December 2020, our team undertook rectification of a hazardous area light fitting in Northiam.