New Month, New Starter
Tuesday 30 June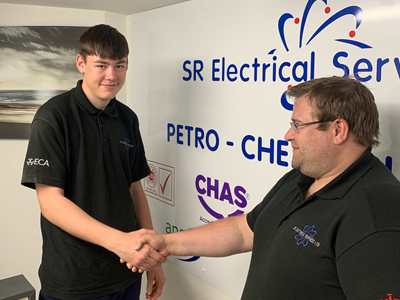 Here at SR Electrical Services LTD, we are delighted to announce we have recently taken on a new apprentice. Meet Lewis Tromans!
Welcome to the team Lewis! We hope you enjoy your time with us and learn as much as you can from our dedicated team of petro-chemical experts. You can discover more about us and what we get up to here.










The Accreditations of a Good Electrical Contractor
June 2022
Certifications and qualifications serve as a good reflection of an electrical contractor's experience and knowledge. A list of recognised accreditations should be on your list of criteria when looking to work with a potential new electrical contractor.
Read more Share


A Spotlight on Lighting Inspections
May 2022
Electrical safety should never be overlooked, especially in businesses and commercial properties that have hundreds of lights fitted.
Read more Share


Header Point Lighting Rectification
July 2021
Our team carried out a rectification project on faulty header point light fittings in Lerwick.
Additional Replacement Light Fitting
July 2021
In December 2020, our team undertook rectification of a hazardous area light fitting in Northiam.