Electrician Job – Newcastle Area
Friday 17 September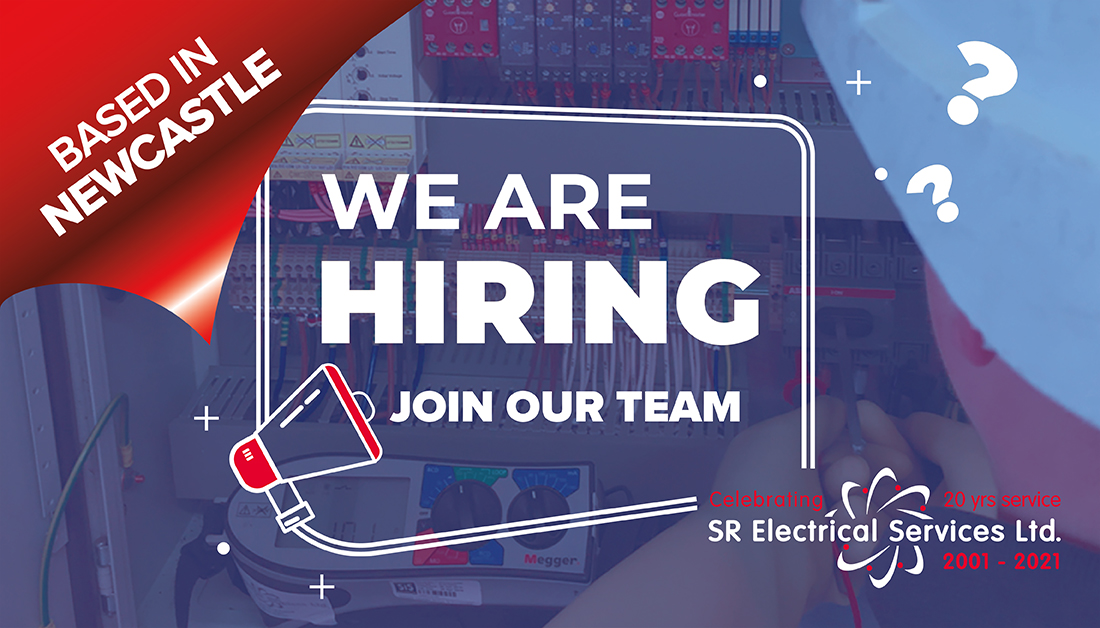 JOB TITLE
We are currently looking for a qualified and experienced Electrician to join our successful Response Maintenance Business. Based at our Northern Division, you will specialise in day-to-day repairs and maintenance for our Blue-Chip National Gas Network clients working in properties in Newcastle and the surrounding areas.
We want to hear from likeminded individuals who truly care about improving people's homes and lives. The benefits of working for SR Electrical Services Ltd: Being recognised as a rewarding employer is important to us.
THE ELECTRICAN ROLE:
• Undertaking electrical repairs and maintenance work within a housing domestic setting, with regular electrical earth Bonding Upgrades on Gas meter Relocation Works in line with our clients upgrading Gas line improvement works.
• You'll be completing a target output of four to six jobs per day, attending reactive, emergency, and routine repairs.
• Demonstrating excellent customer service skills when working in a customer facing environment, in occupied properties. What will you bring as an Electrician?
• Reliable, Punctual, Enthusiastic, Willing to work as part of a team, work own initiative unsupervised, Clean Driving Licence.
PLACE OF WORK
• Newcastle area and Various surrounding locations.
QUALIFICATIONS
• Qualified to an NVQ 3 level as an Electrician, or similar professional body (eg. City & Guilds), with 18th Edition certificate, which is essential
• Qualified specifically with the Test and Inspect qualification is desirable, although not essential. • Possession of a full current UK Driving licence, which is essential to undertake the Electrician role, with use of a company van. Additional benefits include:
HOURS OF WORK
Your normal working days and hours are 8.00am to 5.00pm from Monday to Friday, with an unpaid break each day of 30 minutes.
Travel time is normally paid at your hourly rate but our Company at its discretion reserves the right to vary or remove travel time hourly rate.
You will be required to work additional hours before 8.00am or after 5.00pm due location of areas of the work places we have, and Saturday/Sunday's as is reasonable to meet the requirements of the S R Electrical Services Ltd business. Weekend working when reasonably practical will be on a rota basis so all team members' work or have time off.
Overtime
The Company may require you to perform a reasonable amount of work in addition to your normal hours of work, depending on the needs of the business.
Hours in excess of 40 hours per week are classed as overtime and paid at your hourly rate.
Salary Increases
The Company will review your rate of pay on an annual basis and advise you in writing of any pay change. There is no automatic entitlement to an annual increase in your pay.
EXPENSES
The Company will normally book and pay for your accommodation prior to your stay. Please ensure that you forward the invoice from the hotel to the Company.
If you incur any other reasonable out-of-pocket expenses during the operation of your day to day duties, the Company will reimburse you subject to production, within one month, of written evidence of expenditure, where procurable.
Any attempt to knowingly or falsely claim expenses in breach of the Company's guidelines will result in action being taken under the disciplinary procedures.
BENEFITS
Bonus
The Company may wish to pay a bonus from time to time which will be paid on top of your salary. This is currently yearly after year end, but we are going to put in place during 2019 a quarterly performance bonus system.
This is not a contractual provision and is not guaranteed nor should it be relied upon.
Company Health Scheme
Upon the satisfactory completion of your probationary period as an Electrician you will be included on the BUPA health scheme cover paid by S R Electrical Services Ltd.
PENSION
The Company will operate a pension scheme as in line with the new Government ruling and this starts 1st February 2016 applicable to your employment.
Pension entitlement is calculated according to the rules of the scheme from time to time in force. A copy of the current rules will be supplied to you on joining the scheme.
The Company will comply with the employer pension duties in respect of the Employee in accordance with Part 1 of the Pensions Act 2008.
Further details will be made available to you on commencement.
HOLIDAY AND HOLIDAY PAY
The annual leave year runs from 1st April to 31st March.
Your annual leave entitlement in any leave year is 25 days, this is inclusive of all public/bank holiday entitlement.
This entitlement is pro-rata for part-time employees and will be given in hours.
Annual holiday entitlement during your first year of employment accrues at the rate of one twelfth of the full annual holiday entitlement, for each completed month worked. Thereaf-ter (except for your final year of employment) you will be entitled to your full annual holi-day entitlement each year and there is no requirement to accrue holiday rights.
You will be paid at your normal rate of pay in respect of periods of annual holiday.
Annual Leave may only be taken at time convenient to the Company.
USE OF COMPANY VEHICLE
You will have access to a company van for business use.
It is a requirement of your job that you hold a full driving licence. Authorisation will be required to check driving licence on DVLA online before approaching our insurers.
It is a requirement of your job that you can travel to the various locations within Leeds and surrounding areas.
You must immediately tell us if you are summonsed for or convicted of a driving related offence or if you have a fine for such an offence levied against you. A conviction for a driving related offence may influence your continuing to be provided with a vehicle and may lead to your dismissal if you cannot perform your duties without driving a vehicle.
It is your responsibility to pay any speeding fines, parking fines or any other such fines.
You are responsible for the maintenance of the company van and to ensure it is always road worthy. You must also ensure that it is always in a clean condition inside and outside and that it is cleaned regularly. You must adhere to the Company Vehicle Safety Checklist.
To apply, please send a copy of your CV to info@srelectrical.com.









A Spotlight on Lighting Inspections
May 2022
Electrical safety should never be overlooked, especially in businesses and commercial properties that have hundreds of lights fitted.
Read more Share


The Importance Of Electrical Inspections In Hazardous Areas
March 2022
Electrical inspections are crucial in any zoned hazardous area, not only to ensure that operations are running safely but also to make sure the business remains compliant.
Read more Share


Header Point Lighting Rectification
July 2021
Our team carried out a rectification project on faulty header point light fittings in Lerwick.
Additional Replacement Light Fitting
July 2021
In December 2020, our team undertook rectification of a hazardous area light fitting in Northiam.