Prioritise Your Electrics This Winter: Overlooked Electrical Services
Monday 18 October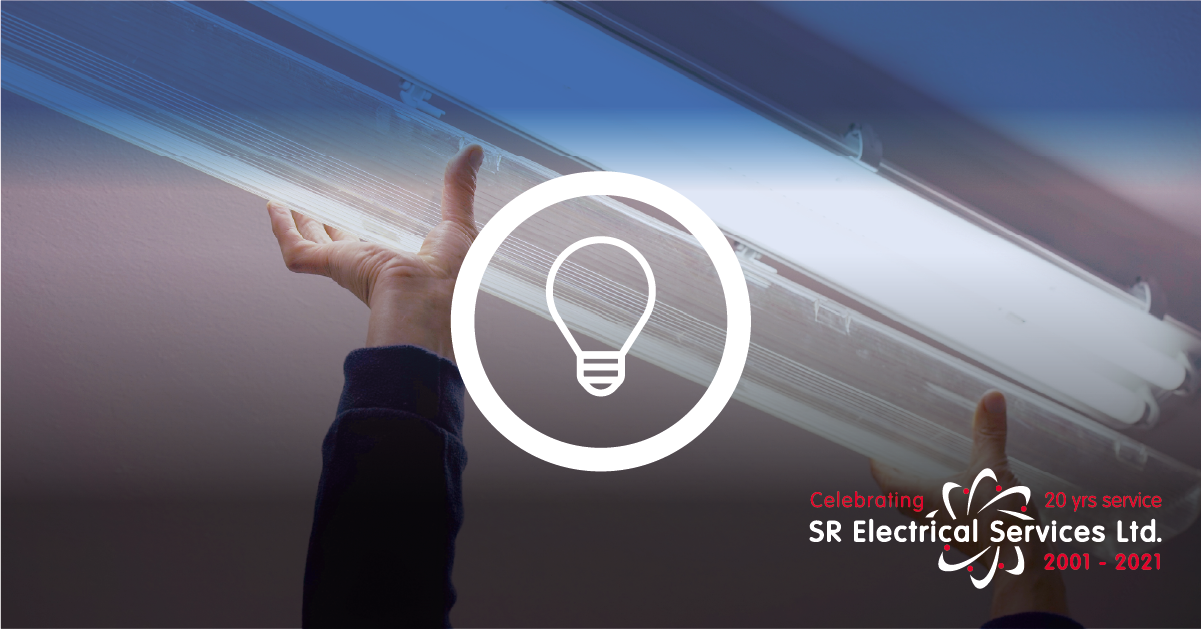 As winter approaches and we see less daylight, it's important now more than ever to prioritise your electrics to prevent any possible electrical or lighting faults. Read on to find out what you should be checking for and the ways in which you can ensure your workplace remains safe and compliant.

Electrical Safety
Employees will be working in darker conditions, meaning all necessary areas will need to be safe and well-lit to avoid any possible hazards. The likeliness of a power cut due to faulty electrics will also need to be diminished, to not only improve safety but also to avoid any unnecessary down time.
Now is the best time to have an inspection carried out on your electrical supplies, before the clocks go back, and weather worsens. We carry out electrical installation condition reports (EICR) to identify any deterioration, damage, defects and dangerous conditions that contravene with BS 7671 regulations. Find out more about our electrical testing and inspection services here.
Lighting Inconsistencies
Poor lighting can be deemed a safety hazard and there may be areas of your site that are lacking sufficient brightness. While this may not be as much of a priority during the lighter months than what it is now, we would advise getting those defects checked and resolved.
Also, there is a seasonal surge of business robberies in the winter months as criminals see the darker nights and Christmas down time as a shining opportunity. Improve the longevity of your working space and securely illuminate those areas to ensure break ins do not occur with up-to-date security systems.
SR Electrical Services Ltd have an extensive history and breadth of knowledge in a wide range of electrical installations including lighting and security systems. Find out more here.
Equipment Maintenance
We are reaching the end of the year and now is a great time to guarantee your operations are running smoothly into the new year. Electrical maintenances, yearly, is crucial and advised as it prevents the failures of equipment before it becomes more costly to you. Therefore, keeping your electrical supplies and equipment in top condition for reduced delays to your business is a vital step to take.
We can carry out yearly maintenance through our planned preventative maintenance program, tailoring the services to meet your requirements. Find out more here.
Emergency Lighting Effectivity
Don't rely on an emergency to make you check that your lighting is working. It is important to ensure your emergency lighting is operating effectively for work continuity or in worst-case scenarios, safe evacuation of staff and/or public. Therefore, undergoing emergency lighting tests will ensure that everything is working properly, and the back-up battery is in full working order.
Our team carry out BS 7671 and BS 5268-1 compliant emergency lighting testing in both safe and hazardous areas. Take a look at some of our emergency lighting work here.
How can we help?
If you're in need of any of the tests or installations mentioned, get in touch with our dedicated team who will use their knowledge and expertise to prepare you for the winter ahead, contact us today.










4 Signs Your Business is due a Hazardous Area Electrical Inspection
February 2023
With the vast amount of directives and regulations surrounding hazardous areas, it can be easy to forget the importance of ensuring that the electrics within this area are safe.
Read more Share


The Essentials of Electrical Control Panels and Why You Need One
January 2023
You may be thinking, control panels, how would they benefit my business? Well, we can tell you that they are widely used in industrial, commercial, and residential applications and are essential for industrial automation.
Read more Share


Header Point Lighting Rectification
July 2021
Our team carried out a rectification project on faulty header point light fittings in Lerwick.
Additional Replacement Light Fitting
July 2021
In December 2020, our team undertook rectification of a hazardous area light fitting in Northiam.