The Importance Of Electrical Inspections In Hazardous Areas
Monday 21 March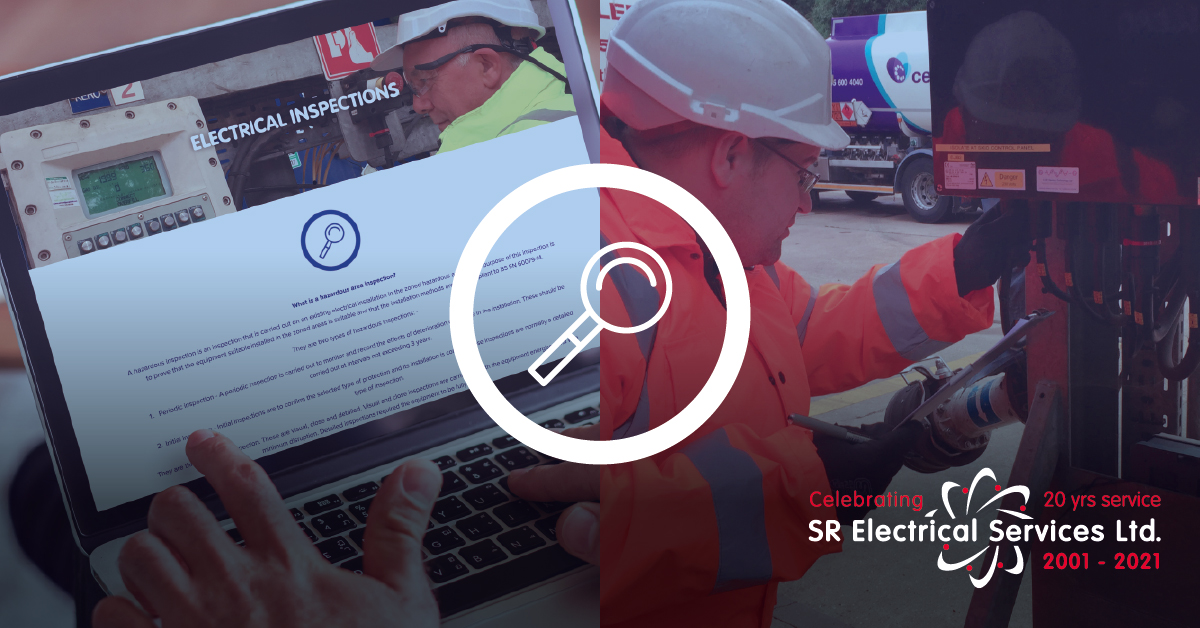 Electrical inspections are crucial in any zoned hazardous area, not only to ensure that operations are running safely but also to make sure the business remains compliant. Without regular testing and inspection, electrical installations run the risk of endangering employees, damaging assets and negatively impacting business costs.

What Does An Inspection Involve?
There are three grades of hazardous area inspections, designed to identify if installations are fully compliant with BS EN 60079 regulations:
Visual Inspections – Identify defects that can be assessed visually without the use of ladders, downtime or hand tools.
Close Inspections – Similar to visual inspections but covers faults that can only be identified by using access equipment.
Detailed Inspections – Uses tools and test equipment when required to assess any issues while covering the aspects of close and visual inspections. They require the equipment to be fully isolated.
Once our specialist team have carried out the relevant inspections a report is drawn up which is issued with the latest legislation in place; this is finalised by our qualifying supervisor. Our engineers also carry equipment to guarantee a thorough check such as ATEX certified cameras and thermal imagining cameras.
You can find out more details about our electrical inspection process for hazardous areas here.
What If Any Urgent Defects Are Identified?
If our CompEx certified engineers identify any rectification work required they will advise you on the next steps to take. We are highly trained and equipped with precise equipment to carry out any repairs to a high standard while avoiding downtime.
Our team have carried out installations and repairs for many businesses, take a look at our latest case studies here.
How Often Does My Site Need An Electrical Inspection?
Periodic inspections monitor and record any changes or deterioration in an installation, for this reason they should be carried out in intervals not exceeding 3 years. They should become a part of any regime for a hazardous area.
It is best to schedule regular inspections even if you believe equipment is running efficiently, testing is an essential aspect of risk management in your hazardous area. You can find out more about other hazardous area services we offer that may be of use here.
How We Can Help
SR Electrical Services has advanced experience in hazardous area electrical services, including carrying out electrical testing and inspection for a wide variety of industries such as:
Pharmaceutical
Oil & Petrochemical
Solvents & Chemicals
Dust
Petrol Forecourts
Through years of providing electrical services nationwide, we guarantee a smooth process delivered with expertise and exceptional customer service. If your business requires an electrical inspection to keep your areas safe and maintained, don't hesitate to get in touch with our skilled team here.










4 Signs Your Business is due a Hazardous Area Electrical Inspection
February 2023
With the vast amount of directives and regulations surrounding hazardous areas, it can be easy to forget the importance of ensuring that the electrics within this area are safe.
Read more Share


The Essentials of Electrical Control Panels and Why You Need One
January 2023
You may be thinking, control panels, how would they benefit my business? Well, we can tell you that they are widely used in industrial, commercial, and residential applications and are essential for industrial automation.
Read more Share


Header Point Lighting Rectification
July 2021
Our team carried out a rectification project on faulty header point light fittings in Lerwick.
Additional Replacement Light Fitting
July 2021
In December 2020, our team undertook rectification of a hazardous area light fitting in Northiam.