The Latest Updates
Thursday 24 June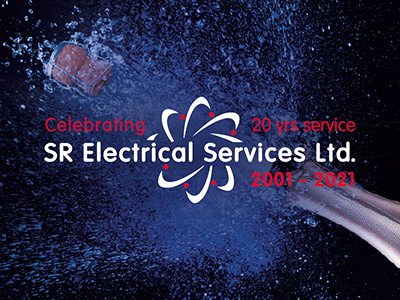 Celebrating 20 Years' Service

We are delighted to be celebrating 20 years of SR Electrical Services LTD; we have successfully enhanced the safety of organisations since the early days of 2001. During our first 20 years, our team, services provided, client-base, expertise and accreditations have grown significantly to make SR Electrical Services LTD the impressive hazardous electrical contractors we are today.
New Accreditation

The celebrations don't stop with our birthday – we have also achieved ANOTHER accreditation! We have now received our PEIMF certification, which ensures our clients are aware that we are recognised by the Petroleum Equipment Installers & Maintenance Federation. You can view our new badge by clicking here.
Helping more organisations throughout the UK

January and February were busy months for the SR Electrical Services team – we were up and down the country working on a range of hazardous area faults which required important rectification. We are frequently updating our website to reflect our latest projects, which you can browse by clicking here. Some of our most recent include:
- Rectification of Hazardous Area Faults
- Rectification of Tank Walkway Lighting
- Rectification of Header Point Lighting
- Rectification of Lighting Faults
Contact Us
If you would like to find out more about how our friendly team of experts could help you with your next project, get in touch with us today by calling us on 01562 750804, emailing us at info@srelectrical.com, or by completing the simple contact form by clicking here.
Stay Up To Date
If you would like to receive updates more frequently, be sure to follow us on our social media pages using the links below. We'd love to see you there!









A Spotlight on Lighting Inspections
May 2022
Electrical safety should never be overlooked, especially in businesses and commercial properties that have hundreds of lights fitted.
Read more Share


The Importance Of Electrical Inspections In Hazardous Areas
March 2022
Electrical inspections are crucial in any zoned hazardous area, not only to ensure that operations are running safely but also to make sure the business remains compliant.
Read more Share


Header Point Lighting Rectification
July 2021
Our team carried out a rectification project on faulty header point light fittings in Lerwick.
Additional Replacement Light Fitting
July 2021
In December 2020, our team undertook rectification of a hazardous area light fitting in Northiam.