Top Tips for Solvent and Chemical Storage
Wednesday 14 April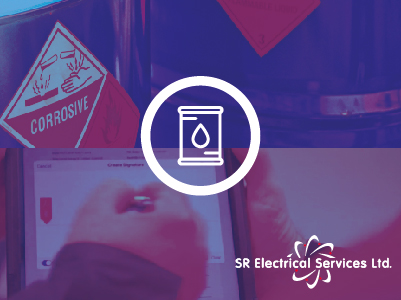 When working with and storing chemicals and solvents in the workplace, it is extremely important to do so correctly. Otherwise known as COSHH products, these materials require adherence to COSHH Regulations / Dsear Regulations and need to meet the requirements for safe chemical storage – it is paramount to hazardous area safety.
The SR Electrical Services LTD are experts in the solvent and chemical storage field and have compiled top tips for safe storage of your hazardous materials, which you can read below. These tips and best practices will help enhance the safety and compliance of your business and business processes.
1. Always ensure incompatible chemicals are stored separately to prevent mixing if spillage occurs
2. Always store corrosives on spill trays to prevent damage or injury if spillage occurs
3. Be sure to not mix specific chemicals and be knowledgeable of what these chemicals are. We have included a list of some chemicals which SHOULD NOT be mixed below:
• Chlorine CANNOT be mixed with ammonia, acetylene, benzene, butadiene, hydrogen, any petroleum gases, sodium carbide, or turpentine
• Acetone CANNOT be mixed with bromine, chlorine, nitric acid, sulfuric acid, or hydrogen peroxide
• Iodine CANNOT be mixed with acetylene, ammonia, or hydrogen
4. Always ensure you are following COSHH Regulations
How can SR Electrical Services LTD help?
If you are unsure as to the safety and compliance of your solvent and chemical storage, why not get in touch with our experts? We can conduct COSHH / Dsear risk assessments to identify potential hazards within your workplace and provide a plan on how to best eliminate and reduce risks. Discover more about how we can help here.
Get the best advice today
Are you interested in what more we can offer to best cater for your workplace and processes? Get in touch with us today by calling us on 01562 750804, or by emailing us at info@srelectrical.com. You can also complete the simple contact form here, and one of the team will be in touch with you as soon as possible.










4 Signs Your Business is due a Hazardous Area Electrical Inspection
February 2023
With the vast amount of directives and regulations surrounding hazardous areas, it can be easy to forget the importance of ensuring that the electrics within this area are safe.
Read more Share


The Essentials of Electrical Control Panels and Why You Need One
January 2023
You may be thinking, control panels, how would they benefit my business? Well, we can tell you that they are widely used in industrial, commercial, and residential applications and are essential for industrial automation.
Read more Share


Header Point Lighting Rectification
July 2021
Our team carried out a rectification project on faulty header point light fittings in Lerwick.
Additional Replacement Light Fitting
July 2021
In December 2020, our team undertook rectification of a hazardous area light fitting in Northiam.