Pre-1970's electrical installation when depot had a top loading gantry.
A lot of equipment now redundant; electrical installation needed to comply BS7671 2015 Amendment 3 (IET Wiring Regulations). As this site is a fuel storage depot the existing TNCS Earthing System required replacing for a TT Earthing System.
Stripped out all redundant panels.
Installed 2 Nº TP&N Distribution Boards.
Installed new 4-pole 160A 100mA time delayed RCD.
Installed new main earth bar & new earth electrodes.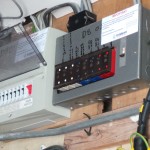 BEFORE: Consumer Units.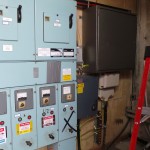 BEFORE: Old Control Panel / Existing Control Panel.
Get in touch