4 Signs Your Business is due a Hazardous Area Electrical Inspection
Thursday 23 February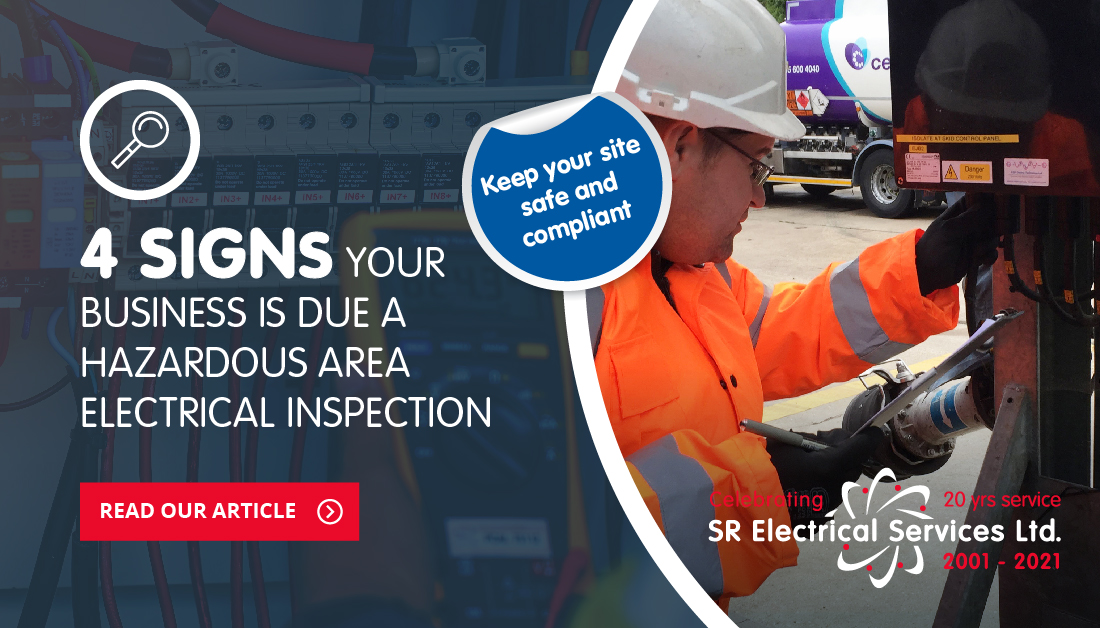 With the vast amount of directives and regulations surrounding hazardous areas, it can be easy to forget the importance of ensuring that the electrics within this area are safe. However, to keep your site compliant with BS EN 60079-14 and guarantee that your staff and assets are safe, electrical inspections should not be overlooked. Think of it like your car's MOT or regular boiler service!
If you're unsure as to whether you need to book your next electrical inspection, here are a number of signs to keep in mind:
1. It's been more than 3 years since your last inspection
It's recommended that a periodic inspection is carried out in intervals not exceeding 3 years, this is in order to monitor and record any changes or deterioration in an installation. Even if you haven't noticed any changes in the efficiency of your equipment, an inspection will ensure that your site is reducing the potential risks of fire and explosion.
The suggested intervals between inspections may vary depending on the installation's location and frequency of maintenance which is why it's helpful to get your entire property adequately inspected.
2. There is visible deterioration in your installed electrics
It may seem obvious, but it can be easy to dismiss or simply not notice any visual cues that indicate your electrics are in need of an inspection. This can be as simple as a missing bolt or a noticeable change in the performance of an item.
Signs of deterioration can act as an indication that a visual or close inspection from an accredited engineer is needed. Don't hesitate if any visible issues are spotted, a thorough inspection could prevent further costly damage or a potentially dangerous incident.
3. Electrics are based in an environment with increased risk
It's recommended that the periods between inspections is shortened in areas where the atmosphere surrounding an electrical installation is corrosive or if the installation may be subject to mechanical damage.
If your electrics are based outdoors, it's especially worthwhile to have regular inspections as water damage and corrosion are common yet inevitable and can lead to damaging electrical failures. By keeping on top of inspections you can catch any faulty electrics before any potential dangers to your personnel and property occur.
4. New processes have recently been introduced
Any recent adjustments to your site or processes, such as the use of new chemicals or changes to ventilation, should prompt a new electrical inspection. In certain situations these changes may change the zone classification of your hazardous area, and to comply with the Dangerous Substances and Explosive Atmospheres Regulations 2002 (DSEAR) it's essential that the space is inspected by a qualified individual.
Keep Your Business Safe
If any of the above apply to your business, then don't wait until it's too late and book in a hazardous area electrical inspection as soon as possible. Our engineers specialise in both periodic and initial inspections and are qualified in carrying out visual, close and detailed inspections based on the installation. You can find out more about our electrical inspection services here.
We are CompEx certified with over 22 years of experience in carrying out inspections to the required standards and high quality for these specialised area. Get in touch with us for any enquiries you may have, no matter how specific, and we can discuss your bespoke requirements here.










4 Signs Your Business is due a Hazardous Area Electrical Inspection
February 2023
With the vast amount of directives and regulations surrounding hazardous areas, it can be easy to forget the importance of ensuring that the electrics within this area are safe.
Read more Share


The Essentials of Electrical Control Panels and Why You Need One
January 2023
You may be thinking, control panels, how would they benefit my business? Well, we can tell you that they are widely used in industrial, commercial, and residential applications and are essential for industrial automation.
Read more Share


Header Point Lighting Rectification
July 2021
Our team carried out a rectification project on faulty header point light fittings in Lerwick.
Additional Replacement Light Fitting
July 2021
In December 2020, our team undertook rectification of a hazardous area light fitting in Northiam.