A Bright Future: Celebrating Our Latest Achievements
Wednesday 17 May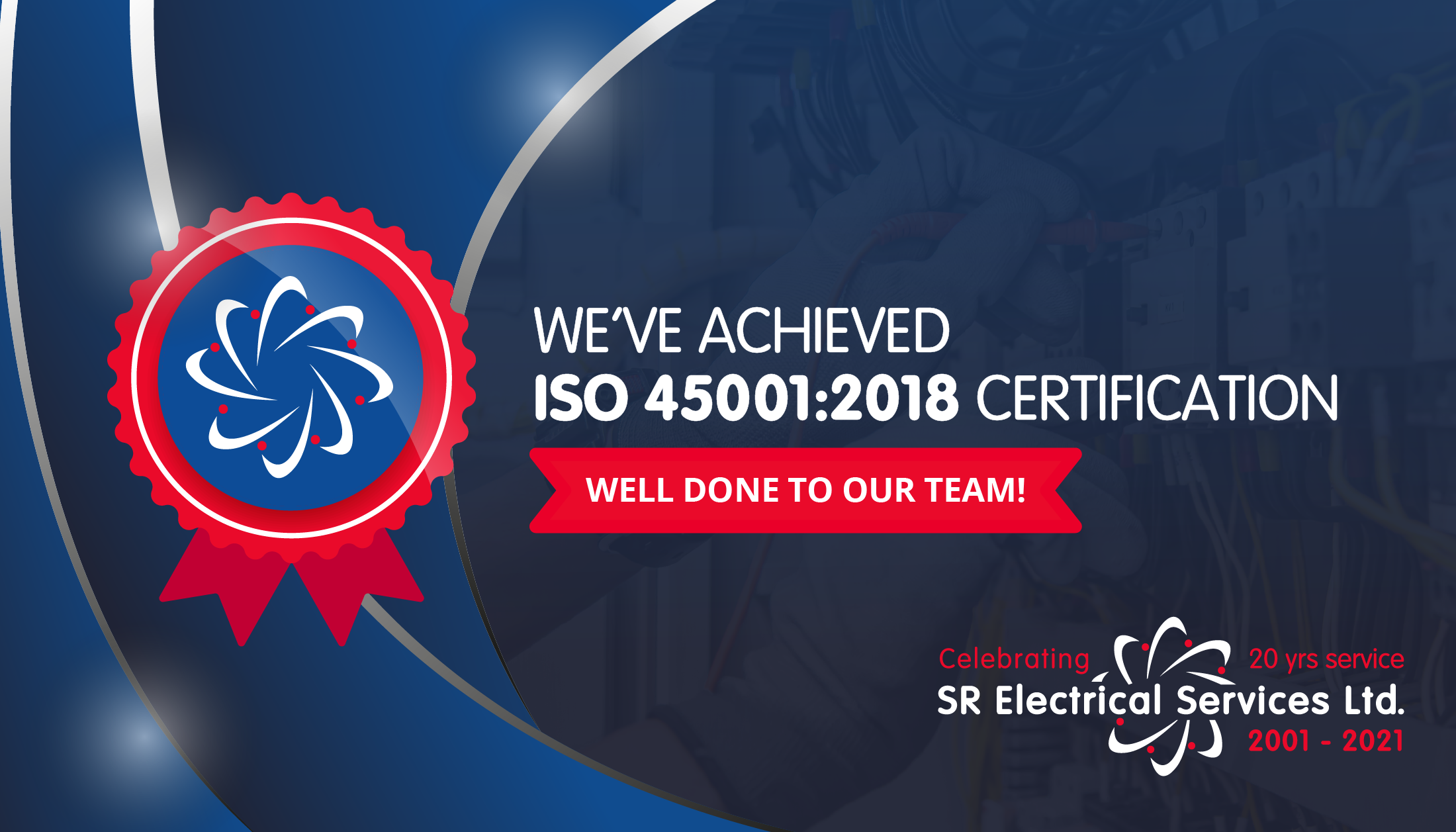 We're delighted to share that our team have achieved a new accolade in the form of our ISO 45001:2018 certification. This is a great addition to our roster of accreditations and we're proud of our team for continuing to provide our customer base with the very best in electrical services.
About ISO 45001:2018
The ISO 45001:2018 certification is awarded to businesses that fulfil the requirements for an exceptional occupational health and safety management system. By achieving this, we can assure our employees, along with current and potential customers, that our employee safety is fully optimised with safe working conditions in place.
As a business that provides inspections and testing for both hazardous and safe areas, health and safety is highly important to us. This is why our team are always working to improve their knowledge of the many aspects of the subject. You can view our ISO 45001:2018 certification here.
Our Commitment to Excellent Services
We provide quality electrical services, and this is in part due to the accreditations that our engineers hold, this includes:
CHAS - The Contractors Health and Safety Assessment Scheme
NICEIC - National Inspection Council for Electrical Installation Contracting
CompEx – Competency validation of personnel who work on equipment for use in explosive atmospheres
ECA - The Electrical Contractors' Association
Through accomplishing and maintaining these achievements our team have finetuned their abilities and continue to develop new skills which benefit our clients.
Putting Our Skills to Use
One of the ways in which we share the knowledge of our excellent team of engineers is by offering electrical inspections and testing. Workplaces, in particular those with hazardous areas, need to be assessed against regulations such as DSEAR, COSHH and BS EN 60079-14.
For this reason, we keep up to date with the required guidelines and any industry developments. When you receive an inspection from us, you can expect a thorough review with the relevant certification provided.
Not only this, but due to our expansive knowledge and experience, we're happy to provide advice on any required rectifications or further steps. You can find out more about our services here.
Get the Latest Updates
We like to regularly keep our customers and followers in the loop with the latest developments, achievements, services and need-to-know information.
Stay updated with the latest at SR Electrical Services by following us on our social media pages:
Facebook
Twitter
LinkedIn
Instagram
YouTube









Your Guide To The Fluorescent Tubes Ban 2023
September 2023
On September 1st 2023 new changes were introduced by the EU Commission to phase out T5 and T8 fluorescent tubes across the UK altogether.
Read more Share


How Static Earthing Can Protect Your Site
August 2023
Businesses with hazardous areas constantly work to reduce the risk of ignition as best as they can, through regular monitoring, training, PPE and much more. You do everything you can to protect your employees and workplace however there are measures that are out of your control.
Read more Share


Header Point Lighting Rectification
July 2021
Our team carried out a rectification project on faulty header point light fittings in Lerwick.
Additional Replacement Light Fitting
July 2021
In December 2020, our team undertook rectification of a hazardous area light fitting in Northiam.