How Your Business Can Save Money With Regular Electrical Maintenance
Friday 4 November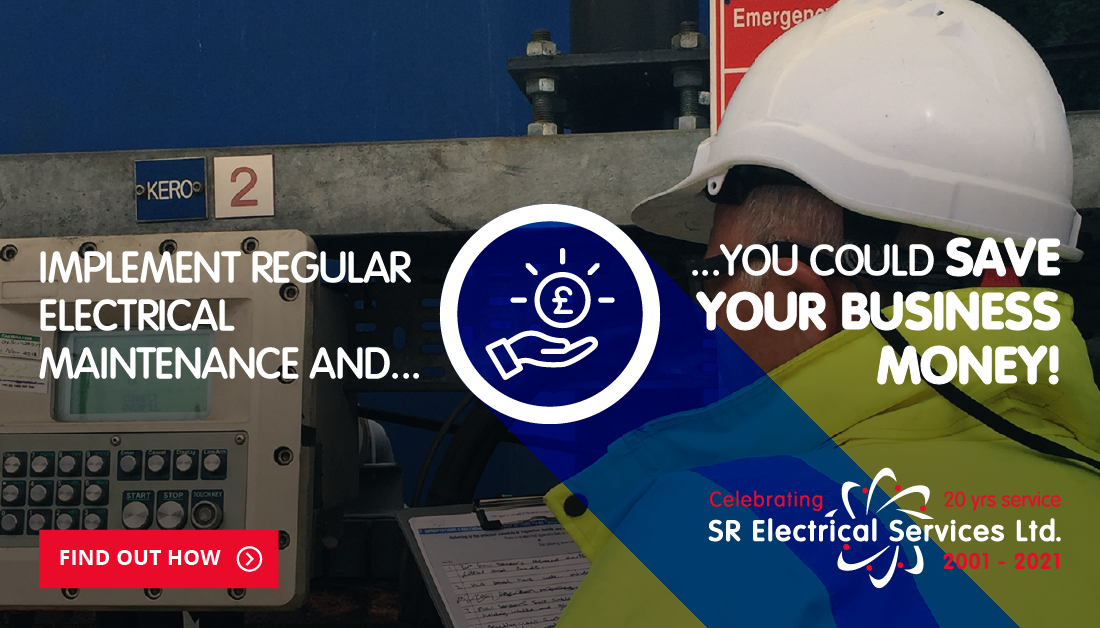 Based on the current economic climate, alongside the running, maintaining and managing of a business, it can be a substantial expense at times. From the predictable costs of wages, bills and suppliers to surprise exceptional costs, you can find your profit margins declining.
As a result of this, you may feel the desire to save money where possible by taking measures such as cutting down the use of the central heating, using energy saving lights and more.
However, one area you should not be cutting back on is your electrical maintenance. Even though maintenance can sometimes be seen as "just another cost" for businesses, it is in fact essential to the safe operation of your business. Not just this, but it can help you save money in the long term. Here's how:
Failing to comply can lead to significant fines
In the short term, failing to conduct regular electrical maintenance can lead to significant fines from the Health and Safety Executive (HSE). This governmental regulatory body are tasked with ensuring that both the health and safety of employees within businesses and electrical safety is maintained.
One such regulation is in fact regular electrical maintenance, so staying up to date with your checks is crucial because fines regularly amounting to tens of thousands of pounds are being issued to businesses that are found to have failed.
Regular electrical maintenance helps safeguard your assets and equipment
Electrical maintenance can seem like an unnecessary expense until it is too late, and a problem occurs which leaves you wishing that you had got your electrics done sooner.
By neglecting regular electrical maintenance, you put your employees, assets, infrastructure and property in danger. From the cost of replacing important electronics, to the potential loss of your whole building and facing litigation, the relatively small cost of ensuring your electrical checks are complete seems far less of an issue. So, by ensuring you undertake regular visits from electrical maintenance providers, you can help to avoid those annoying little surprises that can drive business costs up.
It helps sustain your resale value
By ensuring the regular electrical maintenance of your business's electronics, you help to ensure their resale value down the line. Electronics which are not regularly tested lose their value quickly and can pose a significant risk for any buyer. Think of it like a car, when you do not have your MOT and service done – both mandatory and non-mandatory, it can have a big knock-on affect to your time and money that you could save if it was done regularly.
When to leave it to the professionals
No matter how handy you might be, unless you are a certified electrical contractor, you should leave the work to the professionals. Here at SR Electrical Services Limited, we carry out yearly maintenance on numerous hazardous sites. This varies from a continuous rolling programme to correcting or refurbishing electrical equipment and installations.
All too often we see poor installations that have either been installed by noncertified CompEx electricians or by large companies where the supervisor is CompEx qualified but not the operatives that carry out the work.
With SR Electrical Services Limited, all of our operatives are CompEx qualified, giving our customers peace of mind that the work will be carried out correctly. If you want to find out how we can help you and to discuss your requirements, please contact us today here.










4 Signs Your Business is due a Hazardous Area Electrical Inspection
February 2023
With the vast amount of directives and regulations surrounding hazardous areas, it can be easy to forget the importance of ensuring that the electrics within this area are safe.
Read more Share


The Essentials of Electrical Control Panels and Why You Need One
January 2023
You may be thinking, control panels, how would they benefit my business? Well, we can tell you that they are widely used in industrial, commercial, and residential applications and are essential for industrial automation.
Read more Share


Header Point Lighting Rectification
July 2021
Our team carried out a rectification project on faulty header point light fittings in Lerwick.
Additional Replacement Light Fitting
July 2021
In December 2020, our team undertook rectification of a hazardous area light fitting in Northiam.