Key Factors To Look For When Choosing An Electrical Contractor
Wednesday 19 January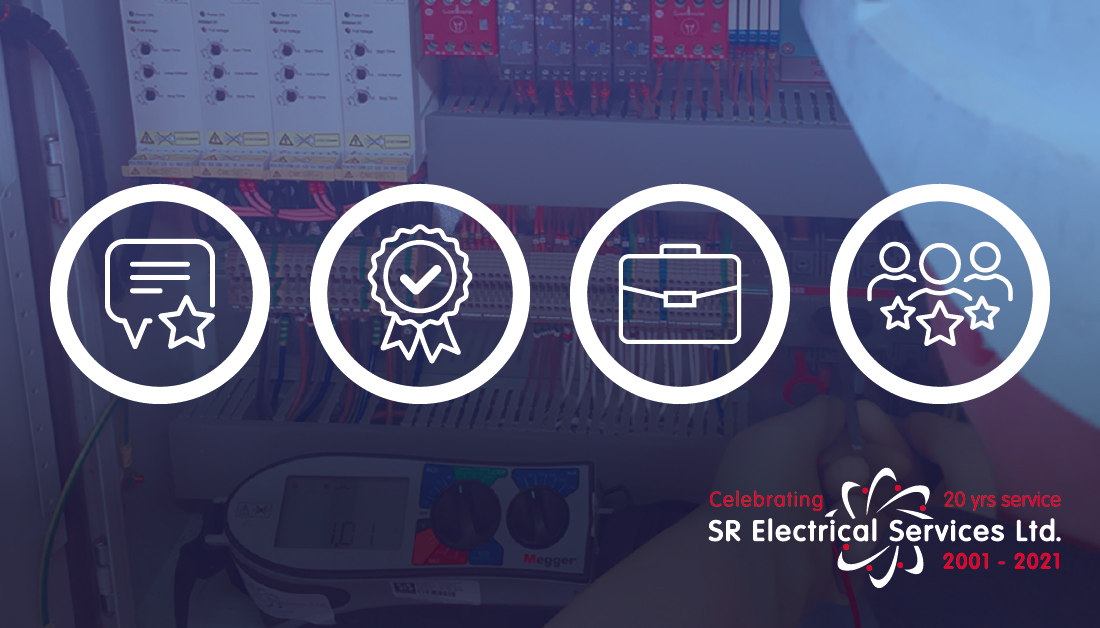 Finding the best electrical contractor for your business is essential for a number of reasons:
- Business efficiency: An efficient and thorough service reduces the need for downtime.
- Cost effectiveness: You want to guarantee the electrical work is being carried out to the highest degree without the need to pay out for future repair or breakdown costs.
- Safety: Improper installation or maintenance can cause a danger to both your workplace and workforce.
Here are four essential factors you need to consider when choosing the perfect contractor for you:
1. Industry Understanding and Experience
Due to the risk that is involved with electrical services, experience is an essential part to the choice in a contractor. Dependent on their knowledge and years of experience, potential customers will be able to determine the businesses trustworthiness through this.
Therefore, to find out this information, companies will often include background information from their initial establishment through to their website and social media channels. Doing your research is critical for your decision as the perfect contractor will become a staple of your business.
2. Up-to-date Qualifications
Within the industry there are a number of necessary accreditations that a reliable electrical contractor should have in order to perform the services to the highest of standards.
These include assessments from bodies such as CHAS (Contractors Health and Safety Assessment Scheme) and NICEIC (National Inspection Council for Electrical Installation Contracting).
Through not just having a wide range of certifications, but also up-to-date awards help to indicate the businesses capabilities, compliancy and knowledge in undertaking the work. You can view a list of the accreditations we hold here.
3. An Impressive Portfolio
When considering which contractor is right for you, their proven track record of successful jobs in the field can help highlight their experience and standard at which they're working at. You can find this out by visiting their company website or reaching out to them directly to gain some background of their level of work.
Take a look at our projects page for an example of a thorough portfolio here.
4. Trusted Clients

In accordance with the previous point, inspecting the company's client base for validation of the standard of their services is a good indicator for the business's credibility. It is not just the size of the company but the scale of jobs being performed that can help validate their services. Also, if their clients are in a similar industry to your business, with the same problems and resolutions needed then this can determine that the electrical contractor will be able to meet your requirements.
These can be found through reviews or listed on the contractor's website. View our clients page to get a flavour for the type of businesses we work with here.
Make The Best Decision For Your Business
Picking an electrical contractor can seem daunting but as long as you take the time to research ahead you will find your ideal fit. If online research fails, get in touch with your prospective options with a list of requirements you are looking for, any good contractor will be able to seamlessly reassure you.
About SR Electrical Services Ltd
We are experts in both hazardous and safe area electrical services delivered with experience and professionalism. To discuss how we can fulfil any electrical services your business is in need of, contact us here.
Keep up to date with any company updates and our latest services by following our social media channels:










4 Signs Your Business is due a Hazardous Area Electrical Inspection
February 2023
With the vast amount of directives and regulations surrounding hazardous areas, it can be easy to forget the importance of ensuring that the electrics within this area are safe.
Read more Share


The Essentials of Electrical Control Panels and Why You Need One
January 2023
You may be thinking, control panels, how would they benefit my business? Well, we can tell you that they are widely used in industrial, commercial, and residential applications and are essential for industrial automation.
Read more Share


Header Point Lighting Rectification
July 2021
Our team carried out a rectification project on faulty header point light fittings in Lerwick.
Additional Replacement Light Fitting
July 2021
In December 2020, our team undertook rectification of a hazardous area light fitting in Northiam.