The Essentials of Hazardous Area Electrical Inspections
Thursday 19 March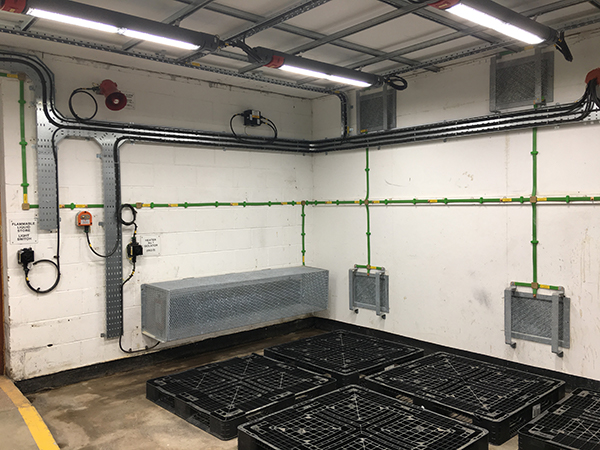 Hazardous Area Inspections determine whether electrical installations are safe and suitable for use. As well as this, they help ensure installations will not lead to any serious consequences that may cause risk to the workforce, business, or processes – for example, fire and explosions.
Grades of Hazardous Area Inspections:
When electrical equipment is installed in a hazardous environment, there are three main inspection stages that must occur to make sure the equipment doesn't become the ignition source in the "Triangle of Fire". The triangle of fire refers to the three elements required for a fire to ignite which are known to be: heat, fuel and an oxidizing agent.
As a result of this, our electrical engineers would undergo inspections using the following grading systems to ensure there's continued reliability of plant equipment used in a hazardous environment:
1. Visual Hazardous Area Inspections
Visual hazardous area inspections detail all defects which can be determined visually either from the ground or from permanent access platforms, without the use of hand tools, switching off or climbing and using ladders.
2. Close Hazardous Area Inspections
Close hazardous area inspections include those aspects covered by a visual inspection, and identifies those defects, such as loose bolts, which will be apparent only by the use of access equipment.
3. Detailed Hazardous Area Inspections
Detailed hazardous area inspections will include those aspects covered by a close inspection and identify those defects, such as loose terminations, which will only be apparent by opening the enclosure and using tools and test equipment where necessary.
During the Hazardous Area Inspection, a thorough examination of electrical installations is performed, which would cover a close examination so that it meets all regulations and requirements:
Safety

Wear and tear
Corrosion
Damage
Age
External influences
Suitability
Overloading
As a result of this, it can lead serious consequences if you don't have hazardous area services in place for your business. Ask the experts and see what we can do for you - https://www.srelectrical.com/hazardous-area-services/









Out with the old, in with the new
December 2020
2020 has been a strange year. Here SR Electrical Services LTD, we would like to say thank you to each and every one of our valued clients and dedicated team members for their continued support and hard work throughout the year. We are extremely grateful.
Read more Share


Is my workplace at risk of a combustible dust explosion?
November 2020
Discover how our team can help keep your workplace, teams, and visitors safe from combustible dust explosions.
Read more Share


Tank Gauging Installation - Wales
October 2020
Recently, the SR Electrical Services LTD team were required to make a journey to Wales in order to help a site with their 2No temporary 1 Arm loading skids installation.
Rectification Hazardous Area Electrical Defects
July 2020
Electrical Inspection and Test of the Oil Lubricant control panels and electrical installation