Rectification of code 1 and 2 defects from operational fuel bulk storage depot.
The 2008 year installation of bottom loading system which didn't meet the correct code of practices and zoning of hazardous areas zone 1 and 2.
Repositioning of the bottom loading skid control panel adjacent to fuel storage tank to safe area location newly formed electrical switch room.
Repositioning IHLA panel, sump pump control panel, Drip tray pump motor control panel to safe locations away from Zone 1 and 2 hazardous areas.
Stripped out all redundant panels.
Relocation of bottom loading panel to safe area
Relocation of IHLA System to safe area
Relocation of the Sump pump control panel and drip tray pump motor controls to a safe area.
Installation of correct containment and cable sizes for rating of equipment in use
Installed 1 Nº TP&N Distribution Board in safe area
Installed new 4-pole 100A 100mA time delayed RCD.
Installed new main earth bar & new earth electrodes.
Installation of a static earthing system for storage tanks with separate earth electrodes.
Installation of Newson gale earthing spiral lead for offloading fuel
New Exe certificated and Atex approved junction boxes on bottom loading skid.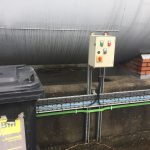 BEFORE: Incorrect position of drip tray pump motor controls.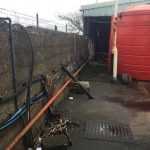 BEFORE: Original cables installed incorrectly.
Get in touch