The Accreditations of a Good Electrical Contractor
Monday 13 June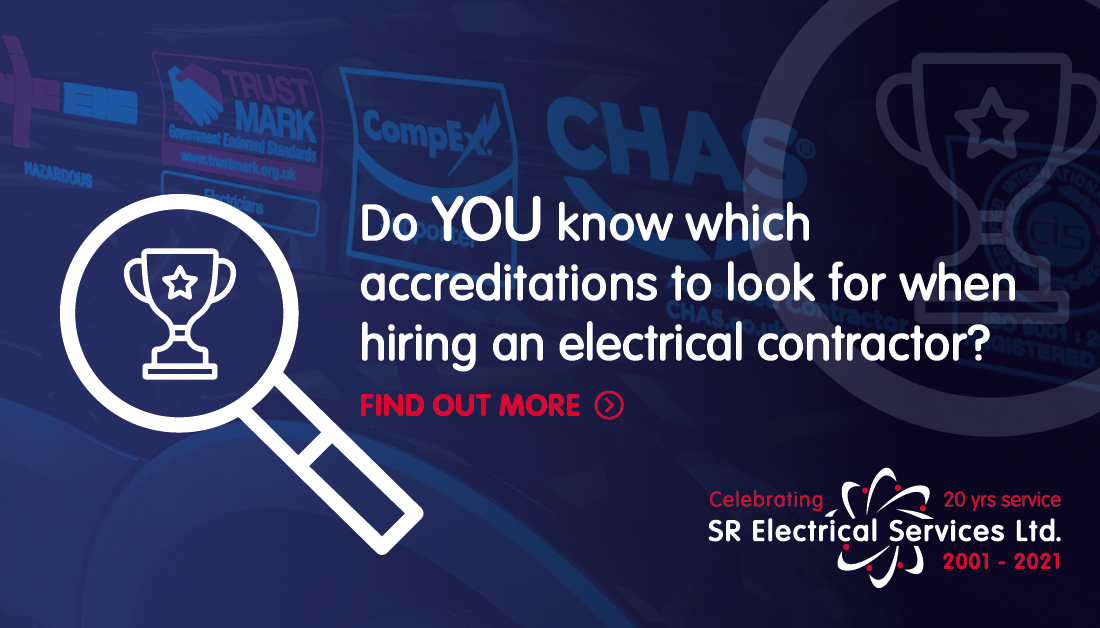 Certifications and qualifications serve as a good reflection of an electrical contractor's experience and knowledge. A list of recognised accreditations should be on your list of criteria when looking to work with a potential new electrical contractor. These accreditations indicate that the business is compliant with the latest regulations and committed to providing quality electrical services.

Here is an outline of some of the most renowned accreditations which will be held by all specialist electrical contractors:
SafeContractor
SafeContractor is a leading health and safety accreditor in the UK and is a founding member of SSiP (Safety Schemes in Procurement). This accreditation scheme checks that contractors meet the necessary requirements surrounding:
Health and Safety
Equal Opportunities
Diversity
Environmental Management Practices
The SafeContractor accreditation covers a lot of points that demonstrate the capabilities of a contractor. If you see this certificate on a potential contractor's website you can be assured that you will be working with a safe, ethical and reliable business. We have recently received our updated SafeContractor accreditation, view the certificate here.
NICEIC
NICEIC stands for National Inspection Council for Electrical Installation Contracting, and they provide assessments, training and consultancy for electrical businesses. They also hold the UK's largest voluntary register of electrical businesses.
You can guarantee that a business with an NICEIC certification is thorough and compliant, as they have undergone testing, verification and assessment of work to meet industry standards and regulations. NICEIC covers courses on a wide range of electrical aspects providing specialist certifications for contractors working in various areas.
We possess both an NICEIC Approved Contactor certification and a NICEIC Hazardous certificate, both of which prove our technical capability to carry out electrical installations in compliance with BS7671.
CHAS
The Contractors Health and Safety Assessment Scheme (CHAS) is a well-known accreditation scheme which substantiates a contractor's health and safety competence. Similarly, to SafetyContractor they are founders of SSiP and assess contractors in line with SSiP Core Criteria and UK Health and Safety Legislation.
A CHAS accreditation is a great sign that the business is consistent and trustworthy, as CHAS helps connect reliable contractors with exclusive clients. A business will display the CHAS logo proudly on its website to demonstrate this nationally recognised accreditation. You can view our certificate as an example, here.
Industry Specifics
If you work in a specialist area such as the petrochemical industry you will need a contractor with the relevant skills and experience in that area. This is why you should look out for industry-specific accreditations and certificates. We carry out work in the petrochemical industry which is why we are members of the Association for Petroleum and Explosives Administration. This demonstrates our commitment to safety and knowledge within the petroleum industry.
Some other examples include Renewable Energy Consumer Code (RECC) for renewable energy installers or Constructionline membership for contractors working in the construction industry.
ECA
The Electrical Contractors' Association (ECA) supports contractors across numerous industry sectors with expert support and guidance. If a contractor is a member of ECA they are dedicated to the electrical industry as a whole and are part of a trusted business environment.
A good contractor will keep their skills and understanding up-to-date and current by becoming members of bodies such as ECA which provide a network of support. You can view our ECA certificate here.
Guarantee Quality Services With Accreditations
It can be easy to assume that all electrical contractors will hold relevant qualifications and certificates but it's worthwhile to check their website or request proof to confirm this. Many great contractors will happily list off the accreditations they hold as evidence of their qualified work. To find out about the other factors you should assess when looking for an electrical contractor, read our helpful news article here.
Here at SR Electrical Services we are devoted to updating our skills and connecting with industry bodies to keep our services of the highest quality. View a list of our accreditations and memberships, here.










4 Signs Your Business is due a Hazardous Area Electrical Inspection
February 2023
With the vast amount of directives and regulations surrounding hazardous areas, it can be easy to forget the importance of ensuring that the electrics within this area are safe.
Read more Share


The Essentials of Electrical Control Panels and Why You Need One
January 2023
You may be thinking, control panels, how would they benefit my business? Well, we can tell you that they are widely used in industrial, commercial, and residential applications and are essential for industrial automation.
Read more Share


Header Point Lighting Rectification
July 2021
Our team carried out a rectification project on faulty header point light fittings in Lerwick.
Additional Replacement Light Fitting
July 2021
In December 2020, our team undertook rectification of a hazardous area light fitting in Northiam.